On the final evening of the Institute of Certified New Zealand Bookkeepers Conference in Christchurch, bookkeepers from around the country came together for the 2019 Excellence Awards dinner.
We are excited to announce that we took home the Bookkeeping Business of the Year award!

Admin Army Managing Director Irene Bennetts says that she's extremely proud of the growing Admin Army family and that the future is bright for the bookkeeping industry.
"I am incredibly proud of the dedication and hard work from the entire Admin Army team who have earned this award. They are a fabulous group and I feel very lucky to work with them."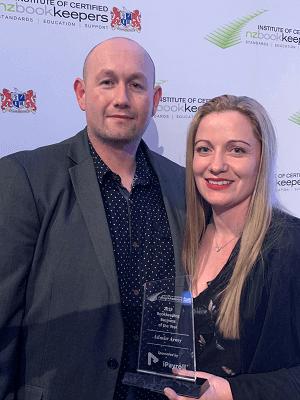 A special thanks
We wanted to take a moment to make special mention of a few groups which without their support, this wouldn't be possible.
Firstly, a huge thank you to the team at iPayroll for sponsoring this award this year. It's fantastic to have software providers like you taking such a keen interest in the bookkeeping profession. We know this was an incredibly difficult decision and the entire Admin Army team are honoured that you chose us.
Next, the Institute of Certified NZ Bookkeepers and the executive committee. What a fantastic conference you put on this year! However, more importantly, the ongoing work that you have put into growing the profession of bookkeepers in NZ. It does not go unnoticed or unappreciated.
To all of Admin Army's supporters (hopefully, if you fall into this category, you know that we mean you!). We wouldn't be where we are today without your encouragement, support and sometimes guidance. Thank you!
And finally, and most importantly, our clients. Thank you for the honour of allowing us to work alongside you in your businesses.
The 2019 Bookkeeping Business of the Year award is just the beginning for the Admin Army team and we're excited to continue to deliver fantastic results for our clients lead the way in the industry in the coming years.