Accounting Practice Admin – every firm has to do it, but not many people claim to enjoy it.
So, why wouldn't you look at ways to streamline your admin to make it as easy as possible and reduce its impact on your business?
Especially when there is so much administration to deal with in an accountancy firm!
Client files, memos, IRD records, deadlines communications… it's enough to make you feel like you are being buried in piles of virtual and physical paperwork.
Luckily, it doesn't have to be this way.
Using a virtual assistant (VA) to take on some of your accounting practice admin tasks lets you get on with the business of delighting your clients and growing your business, while still knowing the fundamentals are getting done.
Here's how it could work:
5 Ways To Streamline Your Admin With A Virtual Assistant
1: Client Onboarding
First impressions count! The experience a client has with your business starts from the very first interactions they have. You want to make sure you start their journey in the right way with a quality onboarding experience.
An efficient and organised onboarding process ensures that the client's first impression of your accountancy practice is a good one. But, it isn't just the client who benefits. Efficient onboarding also helps your business, ensuring that you get all of the critical information you need upfront.
Even though it is a vital step in the client journey, onboarding can take time. So, outsourcing it to a virtual assistant (VA) can save you time and money. You won't have to find someone on the team to take this job on or employ a full-time onboarding team member. An experienced VA company can assist you in creating a streamlined onboarding process and then implement it for you.
2: Keeping On Top Of Clients
Once your clients are on board, you'll need various documents and information from them throughout the year to help you do your job effectively. These requirements usually ramp up at certain times, like the end of the tax year when you need all those bits and pieces like receipts and stock inventories to prepare tax returns.
Again, chasing them for this information takes time, especially if you have several clients who all need to be contacted at once. Even if you work in the cloud with accounting software like Xero or MYOB, clients often still need reminding to upload or record things.
A VA can do those follow-ups for you, gather all the information you need and file it in the right place. That leaves you with more time for analysing the numbers and dealing with those clients who need more attention.
3: Liaising With IRD
After your clients, liaising with the IRD is possibly one of the most time-consuming aspects of accountancy. Sometimes it is as simple as updating some details or submitting some paperwork, but other times it can be more complex and requires individual communication.
Streamline that communication process by involving your VA. Navigating websites and being on the phone with the IRD isn't a good use of your time, so this is another good task to outsource for some clients.
4: Email Management
Are you drowning in emails? Some days, it truly feels like this, right?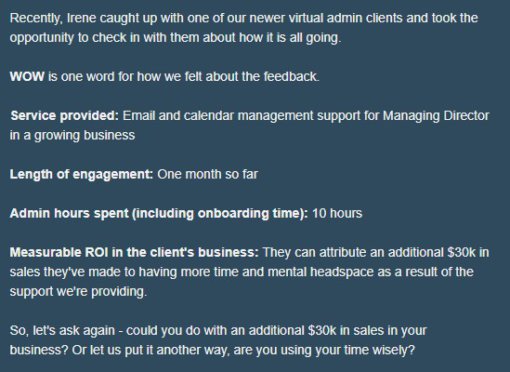 Do you wish there was a way that you could only see the really important emails? Well, fortunately, there is when you have a VA on your team.
Using a VA for email management lets you streamline your inbox. This can involve as little or as much involvement as you like. Your VA can reply to standard emails and requests on your behalf. They can also file incoming client documents against client records, set appointments, and send templated responses. This alone can clear the clutter from your inbox.
With email management in place, you won't have to be distracted by email notifications popping up all the time. Just leave your inbox knowing that you will be alerted to anything important and the rest will be filed appropriately.
5: Template Creation
In your accountancy practice, there are likely to be a number of tasks you do over and over again. Standard letters get sent to clients, certain documents need to be completed, and records need to be kept. Templates make those jobs easier and make sure your information is consistent.
But setting up those templates in the first place can be time-consuming. So it is useful to bring in an experienced VA firm that can go through your existing documents and processes and help you create the right new ones.
Even better, if you're not already using an automated system to manage as much of this process as possible, they can help you implement one.
They can then take charge of sending and monitoring these templated tasks on an ongoing basis.
Bring In An Admin-Busting Army
Attention! All administrative tasks fall in line!
If you've ever wished that you could add some extra resourcing to your team without the need to take on more permanent staff, then Admin Army is ready and waiting to add reinforcements.
Our experienced VAs can assist with all of the admin tasks that occur regularly and make sure your documents and processes are helping you not hinder you.
All of our VAs are carefully chosen, because we know how important reliability is, especially in industries like accounting where you can be dealing with sensitive information. You can rely on our discretion and accuracy.
Not only that, our VA's work alongside our accounting practice support team regularly. So they already understand many of the requirements of accountants to make better use of their time.
If you'd like to bring in the troops from Admin Army to streamline your accounting practice admin, get in touch today.